Turn Your Kitchen Into A Carnival With These Cannabis Caramel Apples
Ingredients
1

Cup

of Cannabis-Infused Butter

2

Taspoons

of Vanilla Extract

1

Can

of Sweetened Condensed Milk

14 oz.

1

Cup

of Light Corn Syrup

2

Cups

of Packed Brown Sugar

8

Wooden

Chopsticks

For Handles

8

Large

Tart Apples
There are many food-related memories swirling throughmy mind when I recollect on my childhood years, but some of the most fond one soccurred at our town's annual carnival. There, I was given free reign to reallydig in, and have as many sugary treats as I desired. And though there wasalways a plethora of food stands and carts to choose from, I always found myself parked in front of the caramel apples. And now that I've developed a passion for cannabis in my later years, I figured it was high time to combine both of these loves into one epic delicacy. That's how these Cannabis Caramel Apples came to be.
And, as you are probably assuming, the creation of these Cannabis Caramel Apples couldn't be simpler. It's basically a perfect recipe for any new or rookie marijuana chef and cook, because it doesn't take a wealth of culinary experience or acumen to fully nail it – every single time.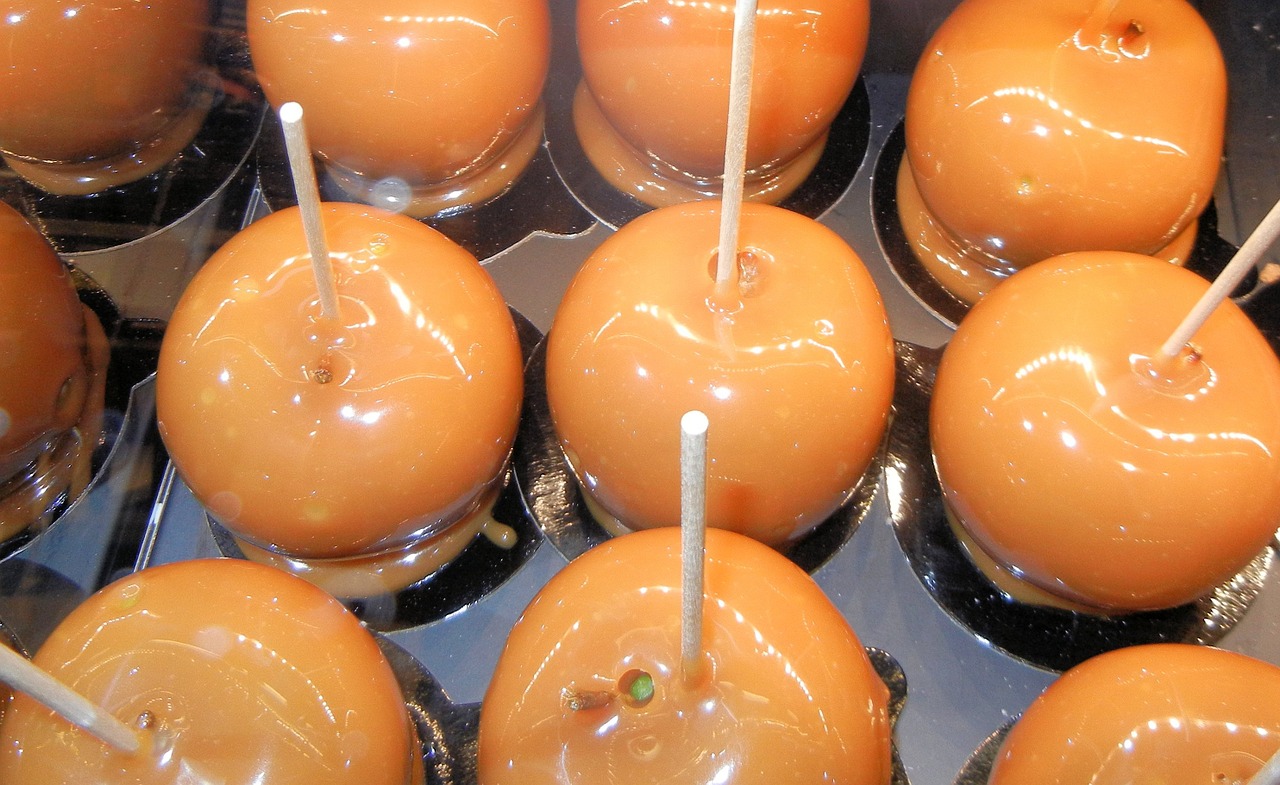 For this one-of-a-kind cannabis recipe, you're going to need to grab ahold of the following:
Instructions
First, you'll want to bring a big saucepan of water to a full-on boil. When you reach that boiling point, go ahead and dip your apples inside of the water for a few seconds. Follow that up by drying them off with some paper towels. This will help eliminate any wax from the peels.

Set all of those dipped apples to the side for the moment, to allow them to fully cool. When they do, insert a chopstick into the bottom of each apple. This will be your handle.

Next, grab some parchment paper, and line a baking sheet with it.

Then, in a different saucepan, placed over "Medium-to-High" heat, you'll stir in your sweetened condensed milk, corn syrup, brown sugar, and cannabis-infused butter

Keep stirring that as it climbs towards a slow boil. When that happens, immediately kick the heat down to "Medium." Then, with the help of a candy thermometer, check the temperature of the contents. You're looking for it to be 248°. That usually happens around the 25-30 minute mark. Don't forget to stir during this part of the process to avoid any unwanted burning.

To test the consistency, you can grab a teaspoon of this delicious syrup, and toss it into a glass of cold water. If a ball forms, you'll know you're good to go. At which point, you can remove the caramel from the heat, and proceed to stir in your vanilla extract.

Don't dilly-dally here, work at a moderate pace, dipping your apples into the caramel while it's still hot. Be mindful to expertly coat each one with a solid amount of caramel. Don't be afraid to let the caramel coat up to ½" of the handle, as well.

Then, strategically sprinkle whatever toppings you'd like to add, or leave them as is, before placing them on the parchment paper to cool down.
Notes
When they are fully cool, and ready to eat, pick out your favorite Cannabis Caramel Apple, and dig in!
Nutrition
Serving:
1
Apple
|
Calories:
799.1
kcal
|
Carbohydrates:
141.5
g
|
Protein:
4.7
g
|
Cholesterol:
77.7
mg
|
Sodium:
268.7
mg